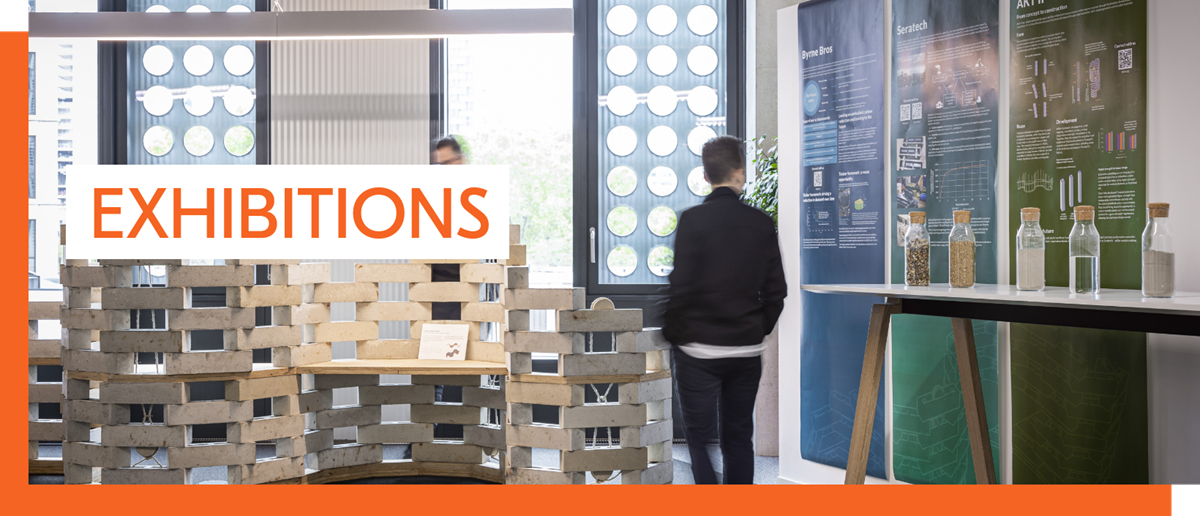 A diverse programme of exhibitions across the Barbican Centre curated in partnership with leading organisations, inviting delegates to discover some of the most innovative solutions to create more ecological cities and delve deeper into the themes explored in this edition of the summit.
Brookfield Properties Workstation
Brookfield Properties with Foster + Partners
Foyer, Level G
The central Brookfield Properties workstation at the Ecocity World Summit has been designed in partnership by the leading global commercial real estate developer and Foster + Partners to showcase the possibilities of future sustainable workplaces. 
As an area for summit delegates to work or simply relax, expect seating areas with integrated full-size trees, laptop charging stations, a range of desking ideas and information about the new Design of the Workplace report commissioned by Brookfield Properties looking at the importance of thoughtful, sustainable workplace design to build communities and enhance working culture.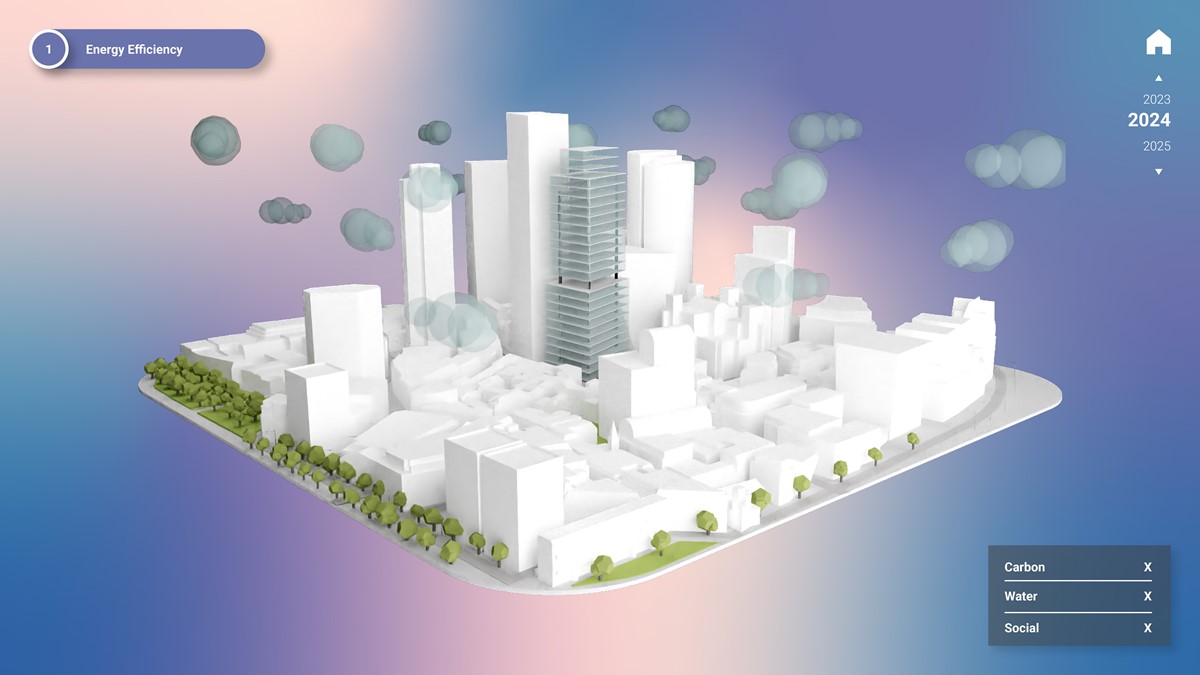 Tall Buildings: The Game, an installation by ARUP with EC BID
Tall buildings and the path to net zero: how low can you go?
ARUP with EC BID
Foyer, Level G
Following the Paris Agreement to limit temperature rises associated with Climate Change to under 2℃, organisations have made environmental commitments to reduce their carbon emissions. EC Bid and Arup are working together to create a fun but thought provoking game that explores the opportunities and challenges involved in decarbonising existing tall buildings. The game tasks the user with selecting interventions which reduce carbon emissions and optimise energy consumption whilst also managing external influences, like policy shifts and evolving stakeholder requirements. The targets have been set: it is now up to you to develop the roadmap to achieve them.
Crinkle-crankle
Foyer, Level G
This installation engineered by AKT-II playfully uses a traditional 'crinkle-crankle' wall design to showcase a cutting-edge cement-replacement technology allowing carbon-neutral concrete. This innovative material that will revolutionise the building sector was awarded with the 2022 Obel Award and has been developed by Seratech's researchers at Imperial College London. Seratech is a bespoke cement mix that incorporates a proportion of low-carbon material. The material is made through a unique chemical process that allows a carbon capture that is both efficient and low cost. The aim is for humanity to be able to continue building robust cities and infrastructure, but without the climate cost of traditional cement mixes.
Crinkle-Crankle, an installation by AKT-II and Seratech, Imperial College London
Hairy ecologies
Pareid Architecture with support from the Embassy of Spain in London, Finsa, Green Salon Collective and B-Made, The Bartlett School of Architecture, UCL
Foyer, Level G
Human hair is perpetually grown, styled and cut. While cherished on one's head, once cut it is discarded as unwanted human waste. Paradoxically, hair can be made into a keepsake as a cherished reminder of someone. These contrasting views demonstrate our strange and ongoing relationship with human hair.
In an era of overproduction, over-consumption, over-mining and material waste, the installation intercepts and reuses human hair to form a landscape-like plinth and two columns, intentionally reminiscent of classical architectural elements that serve the added function of a multi-species habitat; inviting visitors (human and non-human) to engage through site and touch. For more information about Pareid, visit: www.pareid.com
Collective Earth Stories
Stephanie Romig-Orr in collaboration with Central Saint Martins, UAL, Spatial Practices Climate Forum and CABI with advice by DEFRA
Foyer, Level G
The Collective Earth Stories project highlights the deep connection people have with the earth whilst we are simultaneously destroying it.
Participants in the project are asked to share soil samples from their favourite place in the world, along with a story about their connection to that specific place, and the impact of climate change on it. The project takes an anthropological approach, giving voice to communities impacted by the climate crisis around the globe, and highlighting the role of soil conservation in preventing climate change. For further information about the Collective Earth Stories project, visit: www.collective-earth.world 
Display and graphics by MA Narrative Environments students Barbara Kaczmarczyk, Holly Telfer, Ming-Ching Wang and Paula Llinas.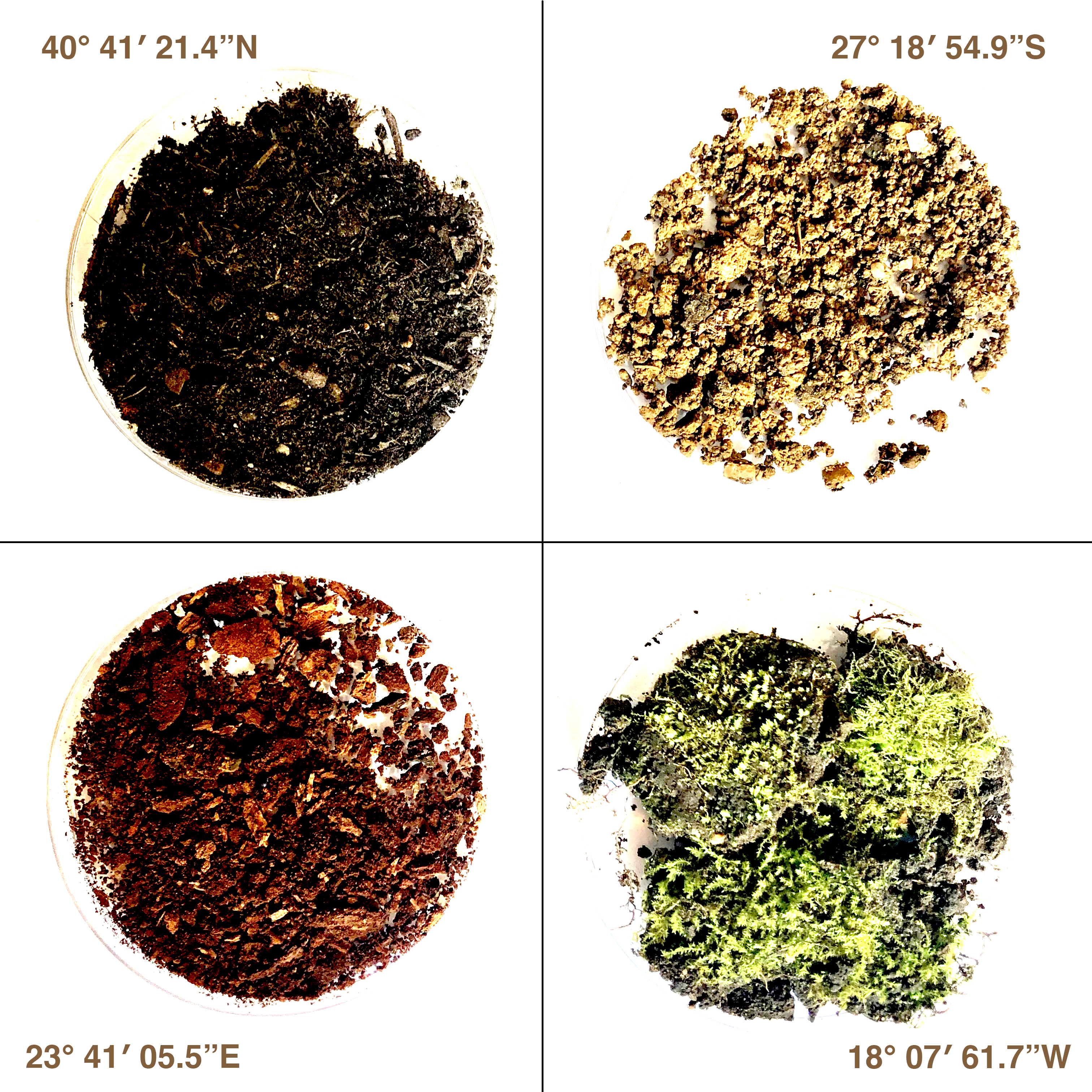 © Resolve Collective / Barbican Centre
RESOLVE COLLECTIVE: THEM'S THE BREAKS
The Curve, Level G (11.00 - 19.00h).
Open to the public
Resolve Collective is a London-based interdisciplinary design collective that combines architecture, engineering, technology and art to address social challenges. With projects in the UK and beyond, they design with and for young people and under-represented groups in society.
For this installation organised by the Barbican, Resolve use technology more commonly found in structural engineering to allow visitors to "listen" to and visualise the Barbican's concrete fabric. Using the cracks, stresses and strains that naturally occur over time as a starting point, they work in collaboration to produce physical structures and events to explore alternative strategies for how we identify, consider, and manage the structural decline of our systems, institutions, and buildings.
The Great Exhibition
Foyer, Level G
Inspired by The Great Exhibition held in 1851 at Hyde Park in London, this exhibition presents a curated selection of ideas, designs and projects from some of the leading companies embracing ecological approaches to create more sustainable cities in the near future.
The Great Exhibition was the first in a series of World's Fairs to display the wonders of culture and industry from around the world that became popular in the 19th century. It was the first international exhibition of manufactured products and was enormously influential on the development of many aspects of society including art and design education, international trade and relations, and even tourism.
The Great Exhibition, interior view © Public domain
Crinkle-Crankle, an installation by AKT-II and Seratech, Imperial College London
37%: ALTERNATIVE MATERIAL FUTURES
Conservatory and Terrace, Level 3
According to a recent research led by the United Nations, building and construction industries account for over 37% of energy and process-related CO2 emissions and around 34% of energy demand. Held at the iconic Barbican Conservatory, home to over 1,500 species of plants, this exhibition explores alternative materials and research presenting a more optimistic and positive future for the building sector.
From carbon-sequestering concrete to algae-based materials and insulation made of human hair, this exhibition presents prototypes and research developed by leading practitioners, academics and companies towards reducing greenhouse emissions and decarbonise the sector.